Full-Service Marketing & PR for Crypto & FinTech
Blockchain technology is here to stay – and Proleo.io is the ideal PR agency to help your blockchain business grow. Get in touch to discuss how we can take your project to the next level.
We are a multi-disciplinary digital service provider. Our solutions are designed to improve your business' efficiency, exposure, and profitability.
To run successful PR campaigns, delivering significant exposure for blockchain technology.
To be the go-to supplier for PR and digital business solutions in the blockchain world.
To aid the growth and development of our crypto and fintech projects in a collaborative work environment.
We're driven by technology and innovation as much as design and content — guaranteeing that we satisfy our mission to help clients build successful futures.
We provide an extensive list of PR and Marketing Services for crypto and fintech, allowing you the option to keep everything conveniently under one roof.
We create a PR strategy to push blockchain, crypto, and NFT projects on social media, generating buzz and getting your name out there. This will increase exposure and make sure your content is shared with thousands of readers.
We target the geographical locations that are right for you, implementing strategies and practices that boost audience participation. Our techniques give you the framework to build a strong relationship with your user base.
Making great quality content is vital to building a successful business. Our content creation and translation services cover a broad range of content in any language. We provide articles, press releases, native news, commercial scripts, podcasts and more.
Check out our top clients & partners
Read our latest company news and press releases
Techbullion
Red Falcon is a decentralized, deflationary, utility, and reward token built initially on Binance Smart Chain that aims to incentivize investors and help everyone enter
MarketWatch
In today's world of online education, the competition is cut-throat. Course creators find it challenging to stand out among the multitude of platforms available in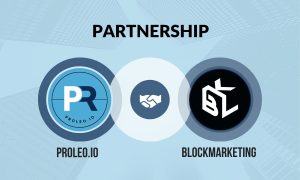 Digital Journal
is proud to announce their new strategic partnership with BlockMarketing, a UK-based Web3 marketing agency specializing in providing comprehensive marketing services in this vibrant industry.
What Our Clients Say About Us
"Thanks a lot! I liked what you did, it was the perfect balance between width of action and quality, so thank you for that!"
"We are very satisfied with all the work we did with Proleo team. They are honest, keep all their promises, and provide high quality publications."
"I've been working with Proleo.io for several months and it has been a great experience. They have been very professional since day one. The team is always helping our project to increase brand exposure. We're looking forward to keep working with them in the future."
"I have used their PR Services multiple times. Their services are excellent. Very Friendly Communication and a very supportive Team."
"I have worked with Proleo team for almost a year now and they are my publisher of choice. The team is reliable, professional and a pleasure to work with."
"Working with team Proleo is always a pleasure, they are not just in it for the money, they always make sure your funds are bringing the biggest exposure to your project. Thoroughly impressed with the caliber of their work"
"The team at Proleo.io is professional and innovative. We have been working with them from day one and we are impressed with the quality of their work. They're dependable and deliver excellent PR results. Easy Finance Corp is looking forward to a long term collaboration and partnership."
We're here to help crypto and tech companies connect with their audience! — Get in touch and let's see how we can help!