Are you planning a digital marketing campaign but not sure how to make it stand out from the rest? If so, you're not alone. With so many businesses competing for attention online, it can be difficult to know where to start. Don't worry! In this blog post, we'll share 5 ways to improve your digital marketing campaign. We'll cover everything you need to know to get started. So what are you waiting for? Let's get started!
5 Ways to Improve Your Digital Marketing Campaign:
1. Create measurable KPIs
Create measurable KPIs: Without measuring your success, you will never know if your campaign is truly effective. Key performance indicators (KPIs) help you track progress and identify areas for improvement. When setting KPIs, be sure to make them specific, achievable, relevant, and time-bound.

Engage your audience: Simply creating content is not enough—you need to actively promote it to reach your target audience. Use social media, email marketing, and other outreach channels to get your message in front of potential customers.

Create a strong call to action: Your content should always have a purpose, and that purpose should be clear to your audience. Include a strong call to action (CTA) that encourages readers to take the next step, whether that's signing up for your newsletter or making a purchase.

Test and optimize: No matter how well you think you've planned your campaign, there's always room for improvement. A/B testing allows you to try different versions of your content to see what works best with your audience. Regularly evaluating and tweaking your campaign will help ensure its continued success.
2. Hire the right talent
When it comes to your digital marketing campaign, one of the most important things you can do is hire the right talent. Whether its SEO growth, PR, or content marketing, the right team will be able to help you create and execute a plan that meets your specific goals and objectives. Here are a few tips for finding and hiring the best talent:
Define your needs. Before you start your search, take some time to think about what you need from your team. What skills and experience are necessary? What kind of personality would fit well with your company culture? Once you have a good idea of what you're looking for, you'll be able to more effectively target your search.

Use multiple channels. Don't just post a job listing on one site and call it a day. Get creative in your recruiting efforts by using multiple channels. Post on job boards, reach out to professional networks, and use social media to spread the word about open positions at your company.

Screen candidates carefully. When you receive applications or resumes, take the time to screen candidates carefully. In addition to reviewing qualifications, conduct phone or video interviews to get a better sense of each person's personality and communication style.

Make an offer they can't refuse. Once you've found the perfect candidate, make them an offer they can't refuse. In addition to offering a competitive salary, consider other perks like flexible hours, telecommuting options, or additional vacation days.
3. Use CRMs and project management software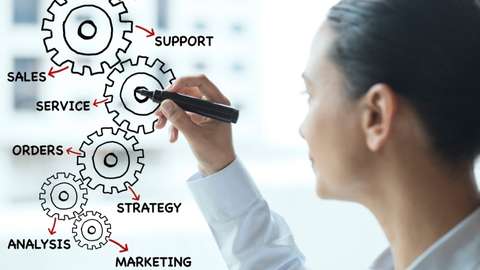 One way to stay organized and manage the various components of your digital marketing campaign is by using a customer relationship management (CRM) system. A CRM is a software application that helps businesses track and manage their customer interactions and relationships. By using a CRM, you can keep track of leads and customers, view their past interactions with your brand, and analyze their behavior to gain insights into what products or services they are interested in. This information can be incredibly valuable when it comes to crafting targeted marketing campaigns that resonate with your audience and drive conversions.
In addition to a CRM, project management software can also be essential for digital marketing success. This type of software helps you manage deadlines, track progress, and collaborate with team members on various tasks and projects. With project management software, you can keep your team organized and focused, ensuring that all the pieces of your campaign come together seamlessly. Whether you're managing a team of designers, developers, or marketers, project management software can help you stay on top of deadlines and deliverables, while also giving you a bird's eye view of your campaign's overall progress.
Overall, managing a successful digital marketing campaign requires a range of skills and tools, from content creation and social media management to analytics and data analysis. By utilizing a CRM and project management software, you can stay organized, track your progress, and optimize your efforts to achieve the best possible results.
4. Get a second opinion
When it comes to digital marketing, it's important to remember that you don't have to go it alone. While you may have a clear vision for your campaign and a solid understanding of your target audience, it can be helpful to get a second opinion from someone with fresh eyes and a different perspective.
One of the benefits of getting a second opinion is that it can help you identify blind spots in your digital marketing strategy. It's easy to get caught up in the day-to-day operations of your campaign and overlook areas where you could be making improvements. By bringing in a second opinion, you can gain a new perspective on your campaign and uncover areas where you could be doing better.
In addition, a second opinion can help you stay focused on your goals and objectives. It's easy to get sidetracked by new ideas and trends in digital marketing, but having someone to bounce ideas off of and provide feedback can help you stay on track and achieve your desired outcomes.
Another advantage of getting a second opinion is that it can help you avoid costly mistakes. Digital marketing can be a complex and ever-changing field, and even the most experienced marketers can make missteps. By getting a second opinion, you can identify potential pitfalls and take steps to avoid them, saving you time and money in the long run.
5. Work with a digital marketing agency
There are many benefits of working with a digital marketing agency. First, an agency has the resources and expertise to develop and execute a comprehensive digital marketing campaign. They can also provide insights and guidance on what's working and what's not, so you can make necessary adjustments to improve your results.
Another advantage of partnering with an agency is that they can help you save time and money by managing all aspects of your campaign, from planning and strategy to execution and analysis. This way, you can focus on running your business while they take care of the details.
Finally, working with an experienced digital marketing agency gives you access to a team of professionals who are up-to-date on the latest trends and best practices. They can provide valuable insights and recommendations that can help you stay ahead of the competition. You can streamline your marketing efforts by reaching out to one of the top marketing for IT companies.
Conclusion:
In this article, we've covered five key ways to improve your digital marketing campaign. By setting measurable KPIs, you can track your progress and make adjustments to your campaign as needed. Hiring the right talent can ensure that you have the skills and expertise needed to execute your strategy effectively. Using CRMs and project management software can help you stay organized and on track, while getting a second opinion can provide valuable insights and help you avoid costly mistakes.
Finally, working with a digital marketing agency can provide a wealth of resources and expertise to help you take your campaign to the next level. By incorporating these strategies into your digital marketing campaign, you can achieve better results, reach your target audience more effectively, and drive business growth.