If you have ever wondered how to create NFTs, then this blog post is for you. Here is a complete guide to creating NFT art in 2023.
It is difficult to fight against all of this competition and draw attention to your NFT works when there are over 80,000 Ethereum Blockchain NFT collections already in existence. According to a research published by NonFungible, sales of NFTs surged by 21000% between the years 2020 and 2021. This provides us with more than sufficient cause to think that this industry is only going to continue to grow.
You need inventive NFT marketing tactics to power your content which will help engage your audience and make use of the incredible leaps of technology that are available in the NFT area if you want to get ahead of your competitors and get a share in NFT sales. Yet, this is far simpler to say than it is to accomplish, and if you aren't very knowledgeable about non-traditional investments and non-traditional investment marketing, it may be ten times more difficult.
While it is possible for you to hire an NFT marketing firm, this is not a cost-effective choice. And there are a number of things you need to take into consideration when selecting the agency that will be the greatest fit for your business. We can take care of all of this difficulty for you and provide you with the knowledge as well as the tools you need to effectively develop NFT art and promote your collections.
Let's get started!
A Complete Guide to Creating NFT Art in 2023: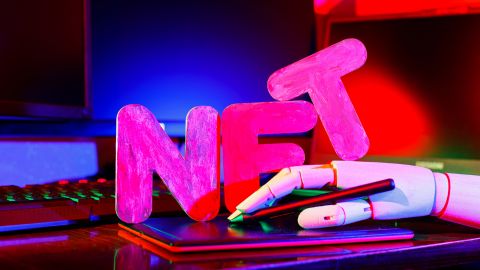 Developing an NFT work of art is not a simple or quick process; rather, it calls for a significant amount of originality in addition to an in-depth understanding of the technical aspects of NFTs. Fortunately, regardless of whether you are familiar with NFTs or are just starting out in this setting, we will be able to explain this method in detail to you.
1. Do some research and look for a marketplace that deals in NFTs.
You only need to make a quick search on Google to do this. Consider the many NFT markets, and choose the one that meets your needs the most. You have the option of choosing between two different kinds of NFT markets while doing an analysis, and they are:
NFT platforms that have been curated.
When it comes to the creation and minting of new cryptocurrency art, these platforms exclusively collaborate with reputable and approved artists. Due to this, you'll find that the only NFT projects on these platforms are of the highest possible quality.
The transaction fees charged to NFT artists by curated platforms are much greater. You also do not have a lot of leeway in deciding how to spend the royalties you get. Larva Labs, NBA Top Shot, and SuperRare are just a few examples of curated non-fantasy trading platforms.
Platforms for non-financial transactions with self-service
On these sites, anybody can manufacture and mint NFTs, which means there may be an increase in low-quality work. You have the ability to choose the percentages of your royalties.
Be warned that there are a lot of dishonest people and people who try to pass themselves off as someone else on marketplaces like this one. NiftyGateway and MakersPlace are two examples of platforms that provide users with the ability to provide their own services.
2. Create a digital wallet for yourself.
Transactions using NFTs and cryptocurrencies are stored in digital wallets (an essential part of selling NFTs). As NFTs are powered by the Ethereum network, it would be fantastic if you own Ether.
Choose a digital wallet that is compatible with your blockchain, regardless of whether you use a hardware or software wallet. Coinbase, which offers its own wallet service, is one example of a popular platform for digital wallets. You can use Coinbase wallet as either a Chrome extension or an app, and the setup process is rather straightforward.
Additional alternatives include Metamask, which provides support for websites and applications that are built on Ethereum, such as OpenSea and Foundation. Moreover, Chrome extensions and applications are available for use with these solutions.
When you've determined which option will work best for you, prepare your wallet. To register your digital wallet, you will need to come up with a username and a password. In addition, users are required to choose a 12-word seed phrase. Make a note of this sentence and don't let it slip your mind.
Take precautions to ensure the safety of this term. In your wallet, you do not have access to your cryptocurrencies or NFTs. Your supplier of the digital wallet won't be able to assist you in this matter.
Some professionals make their living retrieving forgotten passwords, but the service is quite expensive and there is no assurance that it will be successful. You should save both paper copies and digital copies of your password in a secure location.
If you want to retrieve your wallet or use it on a different device, you will need to remember this phrase. To give you a sense of where to start, here are some of the top digital wallets currently available:
Math Wallet
This digital wallet is compatible with over 70 different blockchains, and it is available as both a desktop and mobile app. In addition, there is a web browser that gives users access to NFT markets where they may purchase and sell NFT artwork.
Metamask
Metamask is often used by buyers and makers of NFTs since it facilitates simple access to NFT markets. In addition, you may utilize several addresses to purchase and sell your NFTs independently of your cryptocurrency holdings.
Coinbase
You may store NFTs and a variety of other tokens in the non-custodial wallet that Coinbase provides. Moreover, Coinbase just needs usernames rather than addresses, making it simple to move cryptocurrency between different wallets.
Trust Wallet
On mobile, NFT buyers and sellers often choose the Trust wallet as their preferred option. While Trust Wallet does not support NFT transfers, it simplifies the process of storing and managing all of your assets and makes it easier to do so. In addition to that, there are several integrations with third-party services.
Enjin
You can store and move NFTs with the help of Enjin. There is also a market where NFT assets may be traded, however, to do so, you will need to utilize Enjin's native tokens. The speed with which questions are answered and the level of assistance provided by customer care are what really set Enjin apart from competing digital wallets.
3. Connect Your Wallet
When you have created your digital wallet, you will need to link it to the marketplace that you selected in the first stage. This method is often fast and uncomplicated. On most systems, there is a button that you may click to do this.
When you use the web extensions, a notice will appear in the form of a pop-up asking you to link your wallet and providing instructions on how to do so.
On certain systems, customers can configure their digital wallets by scanning a QR code. When you suddenly get pop-ups asking you to link your wallet, you should exercise extreme caution.
Con artists will use this strategy to steal your personal information and acquire access to your digital wallet. Using a platform with a good reputation can prevent anything like this from taking place.
4. Begin Your Adventure With a Collection
Start a collection first before you make your first piece of NFT art. Connecting your wallet is only one example of how many NFT marketplace platforms make this process simple. You will be required to give your collection a name and provide an explanation of its contents. Add any significant selling points that you can think of.
5. Make your own tokens for the NFT
Now is the time to begin the enjoyable portions and start making your NFT art. You should be able to locate this option on the dashboard or in the menu of the platform that you choose to use in step one.
Next, you will need to submit the information that will be associated with your NFT tokens. This may be a graphic file, an audio file, or even a 3D file. You are free to give your NFT artwork a name based on this.
6. Include and publicize your NFT artwork
When you post your NFT for sale, you have the option of selling it for a predetermined price or holding an auction instead. Before continuing, you are required to have paid the gas costs. You should advertise your NFT art utilizing the finest NFT marketing tactics to create a great community behind your project.
Take Away
Although making NFT art takes some time, and you'll need some money to get started, as soon as you have a handle on how this ecosystem operates, you'll have no problem picking it up and running.
There is a lot of competition in the ecosystem of non-fiat currencies (NFTs), and less than half of all Americans are interested in these digital tokens. The most effective method for creating a profitable NFT project is to model it after our most successful NFT marketing techniques and NFT marketing case studies.