Digital marketing is vital to the success of small businesses and large corporations both. In the marketing field, digital marketing plays an enormous part as it brings cost-efficiency lead generation, helps reach the target audience efficiently, creates brand awareness, engages and retains customers, and ensures longstanding trust and sales.
Proleo.io is the complete marketing and PR (Public Relations) agency that competently helps blockchain-based projects. The company works with cryptocurrency, Fintech, NFTs (Non-fungible tokens), and Blockchain projects. 
Further, the skilled team members firmly believe in the strength of ideas and strive to collaborate with all types of businesses globally. The company offers a wide-ranging list of crypto and marketing services to its valued clients: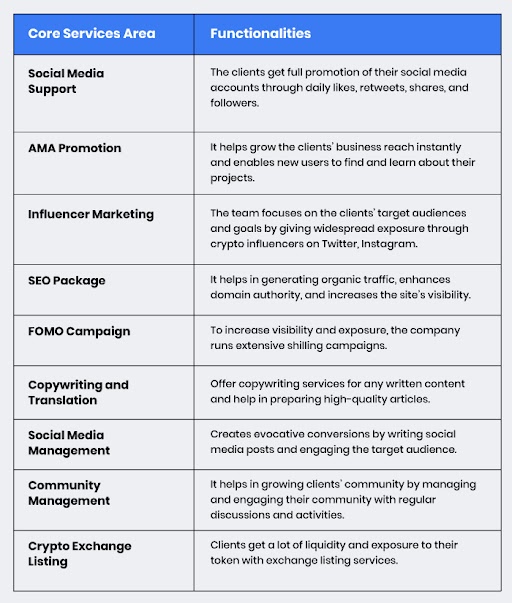 Additionally, the company offers other services, including billboard advertising, celebrity-sponsored videos, crypto ads and banners, coin directories and listings, NFT Calendar and listing, radio commercials, podcast interviews, and animated videos. 
GoodFirms, the pioneering research and review platform, has considered Proleo.io among the top digital marketing companies in the United States due to its awe-inspiring digital marketing services that help fulfill clients' business demands.
Proleo.io – Vision, and Strength 
Proleo.io is a multi-disciplinary digital service provider that helps clients enhance their business competence, exposure, and productivity. The company aims to seamlessly run PR campaigns and provide substantial conversance for blockchain technology. 
Moreover, the company's vision is to become an intelligent PR and digital business solutions supplier. It aims to support the growth and development of crypto along with fintech projects for valued clients.
Further, the tech-driven and dedicated team of this award-winning crypto PR agency leaves no stone unturned when it comes to helping clients achieve success in their endeavors.
For over two years, the company has strived to implement its clients' creative visions. The passionate team creatively makes marketing strategies and thoroughly works with the clients' brands to deliver exceptional results. 
Review of Proleo.io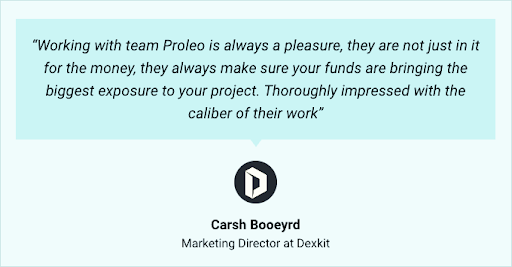 Why is Proleo.io One of the Top Digital Marketing Companies in the United States?
The professional team innovatively builds a PR strategy to drive blockchain, crypto, and NFT projects on social media, increasing the exposure of the clients' brands.

The team believes in building a solid relationship with the user base by implementing strategies and apt practices that enhance audience participation. 

The content creation team

delivers quality content that includes

articles, press releases, native news, commercial scripts,

podcasts and more for successful businesses

.

Further, the team Proleo.io enables clients' businesses to

transform their creative ideas into real-life projects.
According to GoodFirms' research methodology, Proleo.io is acknowledged for its result-driven approach. 
About the GoodFirms Research Methodology
After extensive research and systematically examining every service provider, GoodFirms lists top companies that are genuine experts in their niche and provide their clients with the best support and benefits. This helps listed companies strengthen their reputation, expand their customer base and grow their business.
The GoodFirms Research Methodology is also an effort to provide accurate information to the businesses and select required services based on different parameters like location, reviews, the technology used, social media handles, and more.
About GoodFirms
GoodFirms is a B2B research, review, and listing platform helping b2b companies to find the right technology partner suiting their needs. The company connects service providers with service seekers through a comprehensive and thoroughly researched fact-based list of the best services and solutions. Recognized as the most reliable source for the B2B market, GoodFirms has world-class experience with partners across the globe.