With the rapid evolution of technology, the digital landscape has transformed into a decentralized and immersive environment known as Web3. In this new era, traditional marketing strategies are being reshaped to cater to the needs of decentralized applications, blockchain platforms, and cryptocurrency ecosystems. As businesses and organizations navigate this dynamic realm, the demand for specialized marketing expertise has soared.
In this article, we present to you the top 5 Web3 marketing agencies of 2023. These cutting-edge firms have proven their mettle by leveraging the power of blockchain technology, smart contracts, and decentralized platforms to drive brand awareness, customer engagement, and sustainable growth for their clients.
Web3 marketing agencies understand the intricate dynamics of the decentralized web and possess the knowledge and skills to navigate its unique challenges. They harness blockchain's transparency, security, and immutability to create impactful marketing campaigns that resonate with the Web3 audience. By tapping into the vast potential of decentralized finance (DeFi), non-fungible tokens (NFTs), and decentralized autonomous organizations (DAOs), these agencies have set themselves apart as pioneers in the ever-evolving digital marketing landscape.
So, without further ado, let's dive into the world of Web3 marketing and discover the trailblazing agencies that are shaping the future of digital advertising in 2023.
Top 5 Web3 Marketing Agencies in 2023:
Meet Proleo.io, an award-winning crypto marketing agency. Proleo.io is a one-stop solution for scaling your blockchain business through an organized and well-structured "Marketing & PR" approach. Thus, using dedicated solutions to help your crypto business grow sustainably with maximum profitability, exposure, and efficiency.
Concurrently, the mission of Proleo.io is to run successful PR campaigns for your business that generate prolific leads within blockchain technology. So, if you're looking to get your business recognized with targeted engagement, Proleo.io provides the best solutions. Several frameworks exist by which audience participation can be enhanced irrespective of geographical location.
Interesting Points of this Business
The PR campaign covers a broad spectrum of the top web3 publications, including crypto, blockchain, and NFT projects. Thus, developing your brand identity with increased user engagement.

Working with top crypto influencers on Twitter, YouTube, TikTok, and Instagram. They provide timely promotion of your project while focusing on your target audience and goals.

The company has almost 3 years of experience with over 237 completed projects. The customer reviews are great, and Proleo.io has earned several awards.
Single Grain has dedicated solutions to help your business track the right pathway. After all, Single Grain is a specialized digital marketing agency that utilizes the right tools and channels to derive marketing plans tailored to business growth.
Apparently, your business is promoted through different mediums, including SEO, email campaigns, PPC campaigns, advertisements, social media, crypto communities, and much more.
Interesting Points of this Business
Single Grain leverages crypto experts that understand the Web3 ecosystem. Therefore, your A-to-Z marketing campaign remains in reliable and trusted hands. With this, you would start experiencing positive results in terms of growth.

Through special data analytics support, data insights are used to figure out underlying hindrances within your business. By this, you can overcome business inefficiencies and start performing well.

Content marketing is also among the possibilities at Simple Grain. Thus, a result-oriented marketing plan is drafted for your business content that generates targeted leads.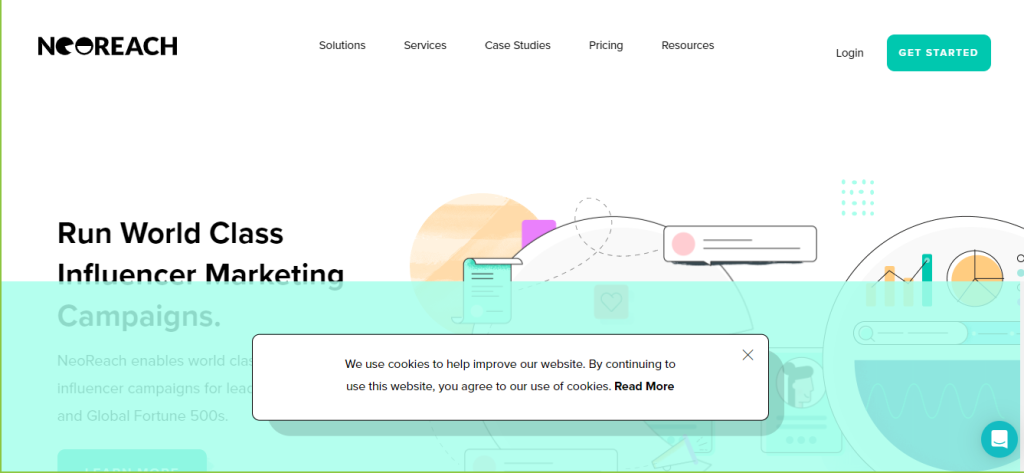 With NeoReach, run a successful marketing campaign for your business involving crypto, NFT, or decentralized projects. Ideally, this Web3 marketing agency has the availability of an experienced team that helps derive proven strategies to make your business stand out from the rest. NeoReach helped the launch of many protocols, NFTs, dApps, and multiple exchanges.
Thus, you can trust this marketing agency to achieve your business goals. The launched marketing campaigns and strategies are based on proper data sources that help derive targeted growth for your business.
Interesting Points of this Business
You'll get detailed reporting on your projects as insights. This will keep you updated about your project's progress. This way, you'll be able to know where your stand in the community.

Social media management also can help derive target leads and sales from digital customers. For this purpose, full-service management is offered, including page management and content generation.

Organize paid ads campaigns for retargeting the audience. This is majorly done by launching paid ads on social media platforms from influencer profiles. Ultimately, the business conversion rate improves in a significant way.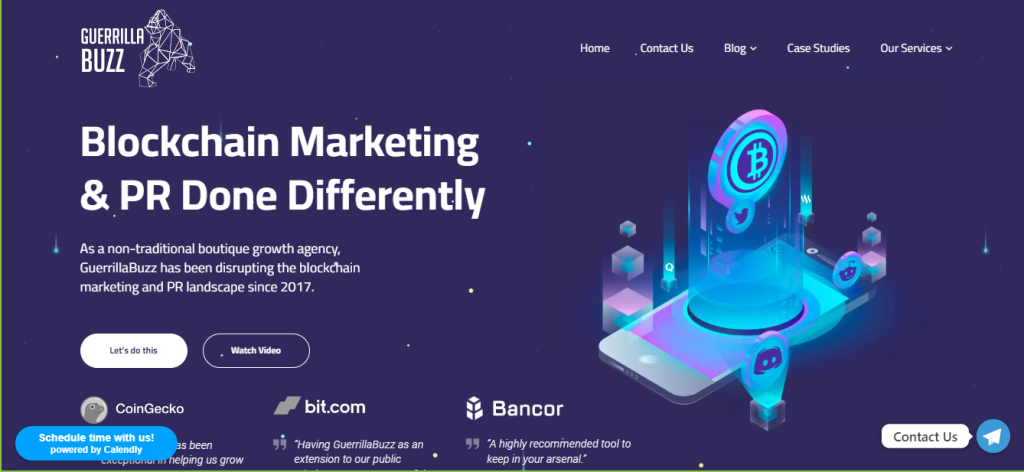 GuerrillaBuzz is a trusted partner for all your blockchain marketing and PR campaigns on the internet. The company has been operating since 2018, so with 5 years of experience, GuerrillaBuzz provides result-oriented solutions to help your Web3 business to grow. 
Apparently, GuerrillaBuzz simplifies your blockchain PR through its strategies and techniques. Content marketing is also a possible solution for distributing content to a targeted audience. A complete branding solution for your business becomes possible with a reliable standard.
Interesting Points of this Business
By leveraging community-driven marketing, organic leads are generated, attracting the desired audience to your business. 

Customized SEO practices are developed based on your business goals and objectives. They employ a range of effective SEO strategies to ensure your content achieves higher rankings on search engines.

Take advantage of our complimentary consultation service by simply filling out an online form, allowing you to access valuable advice and insights without financial commitment.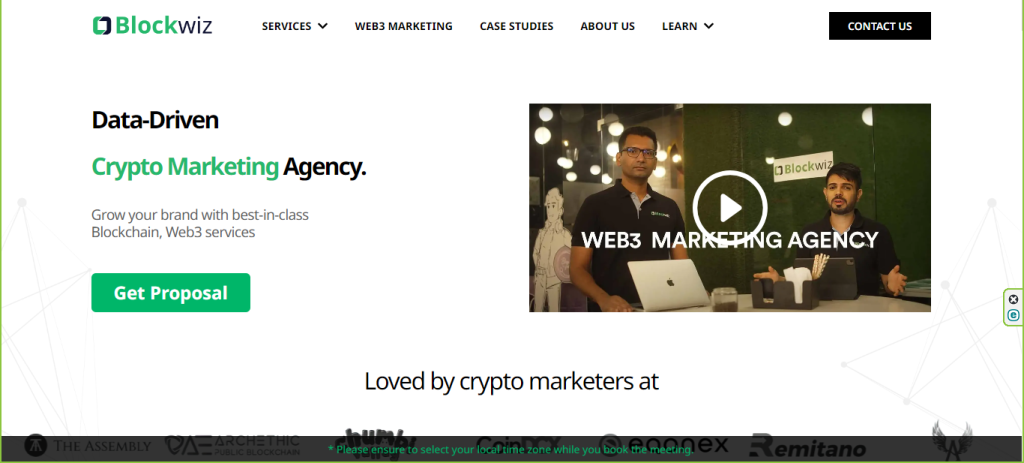 Blockwiz is a cryptocurrency marketing agency that provides all-in-one solutions for Web3 marketing. Blockwiz has everything to make your business grow with sales-boosting solutions.
They also offer crypto marketing services including influencer marketing, press release, community management, SEO, content writing, and SM marketing. There's also a possibility of creating explainer videos that sum up your business products in an engaging way to bring targeted leads. 
Interesting Points of this Business
Get a valuable growth advisory for your business through data-driven crypto experts. This way, performance metrics are optimized with plan-based marketing strategies.

The services are offered with flexible solutions that allow customization within the strategies. Hence, you can ensure the derived marketing plan complies with your brand objectives.

With the available dashboard, monitor your entire marketing campaign with stats. Thus, you'll be aware of where your money is being spent as there is proper transparency.
Conclusion
As we conclude our exploration of the top 5 web3 marketing agency list, it is evident that these firms have embraced the transformative power of decentralized technologies and harnessed it to revolutionize the way brands engage with their audiences. Through their innovative strategies, deep understanding of blockchain, and proficiency in decentralized platforms, these agencies have helped their clients navigate the complex Web3 landscape and achieve remarkable success.
In selecting a Web3 marketing agency, it is crucial to consider their expertise, track record, and ability to stay at the forefront of emerging trends. The top five agencies featured in this article have consistently proven their ability to deliver exceptional results, driving brand visibility, community engagement, and sustainable growth for their clients.
Whether you are a blockchain startup, a crypto project, or a traditional business looking to make your mark in the Web3 space, partnering with a Web3 marketing agency can provide you with the necessary expertise and tools to thrive. By staying ahead of the curve, embracing new technologies, and aligning marketing efforts with the principles of Web3, businesses can establish a competitive edge in this rapidly evolving landscape.
The future of marketing is here, and it belongs to those who embrace the power of Web3. So, take the leap, explore the potential, and embark on a journey to redefine marketing in the decentralized world.