Proleo.io  is a top-tier Crypto Marketing & PR agency led by CEO and Founder Hicham Sbaa. The company specializes in crafting innovative PR strategies for Crypto and Blockchain businesses and aims to facilitate the adoption of these emerging technologies globally. GoodFirms research team spoke to him recently to learn more about his unique business, and here's an extract of the interview for you to see.
Crafting Innovative PR Strategies for Crypto and Blockchain Businesses
Proleo.io offers customized crypto digital marketing solutions that are highly result-oriented. To this end, they leverage innovative PR tactics, influencer collaborations, and personalized digital marketing campaigns that ensure outstanding results. 
The company's team comprises skilled and creative professionals with a reputation for thinking outside the box and paying close attention to detail, which in turn helps build impactful brands for their diverse clients in the space of cryptocurrency, Fintech, NFT, and Blockchain. 
Proleo.io's unique public relations and digital marketing approach and efforts have helped them become one of New Jersey's top digital marketing companies, recognized by GoodFirms.
The GoodFirms team got an opportunity to interview Mr. Hicham Sbaa, CEO and founder of Proleo.io, and learn more about the company and its values.
Without further ado, let's dive into the interview right away. 
The Story Behind The Founding Of Proleo.Io And The CEO's Role
Mr. Sbaa stated that he started as a social media manager at a small American marketing agency. He gained valuable experience that helped him advance to prominent roles such as CMO and COO in his digital marketing career at different firms.
His fascination with crypto and fintech marketing led him to create Proleo.io, an agency that provides reliable solutions to help clients overcome marketing challenges and enhance their brands. Over the years, Proleo.io t has proved to be an expert in crypto PR and digital marketing, ensuring clients receive the best value for their business.
As a CEO, he charts out highly effective marketing strategies that establish strong connections with customers and drive business growth on a global scale.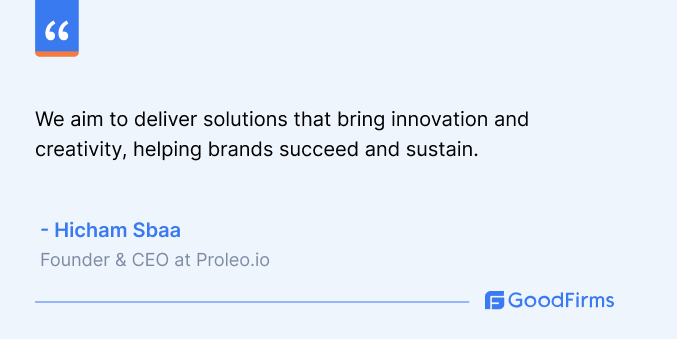 The Focus Of This Discussion Is On The Business Model And The Competitive Advantage Of The Company
Mr. Sbaa reveals that the company comprises a highly skilled in-house team that ensures unmatched service quality and seamless business operations. They adeptly cater to clients' distinctive business requirements, even when facing challenges. 
They excel at handling the unique complexities of this field and have a proven track record of success with various crypto and blockchain projects. Their dedication to delivering fully customized marketing solutions and exceptional customer service sets them apart from global competitors.
Industries And Services That The Company Serves To Its Customers
Mr. Sbaa said his company offers services for the blockchain, cryptocurrency, and NFT industries. They provide personalized PR and marketing solutions in blockchain marketing projects, including launching tokens, NFTs, and exchanges, and thus help clients grow and increase their brand visibility.
He further explained that marketing solutions are tailor-made with effective strategies to aid their clients in flourishing and standing out in the highly competitive digital landscape. Their primary services include PR marketing strategies, influencer marketing, content marketing, and social media promotions.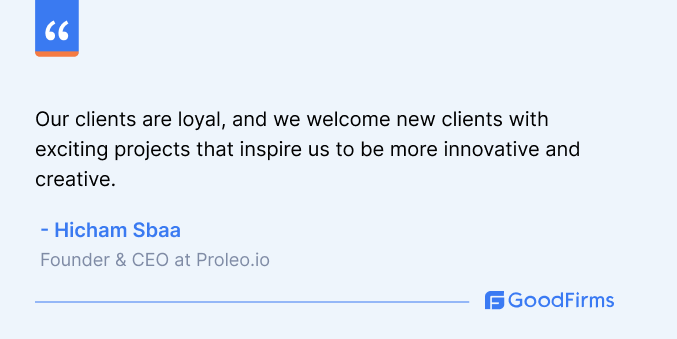 The Company Offers Exceptional Customer Satisfaction And Support
According to Mr. Sbaa, the company's philosophy is to underpromise and overdeliver, exceeding client expectations. The team operates with complete dedication and transparency throughout the project's life cycle, adhering to a customer-centric approach fostering trust and confidence in their clients.
Proleo.io's customer support system is tailored to deliver effective communication, regular project updates, and a problem-solving attitude. This approach improves the quality of business operations while working with clients. The company aims to empower its clients with all the necessary information, exceptional assistance, and guidance to complete their projects.
The reviews from Proleo.io's clients on the GoodFirms platform showcase their consistently high customer satisfaction.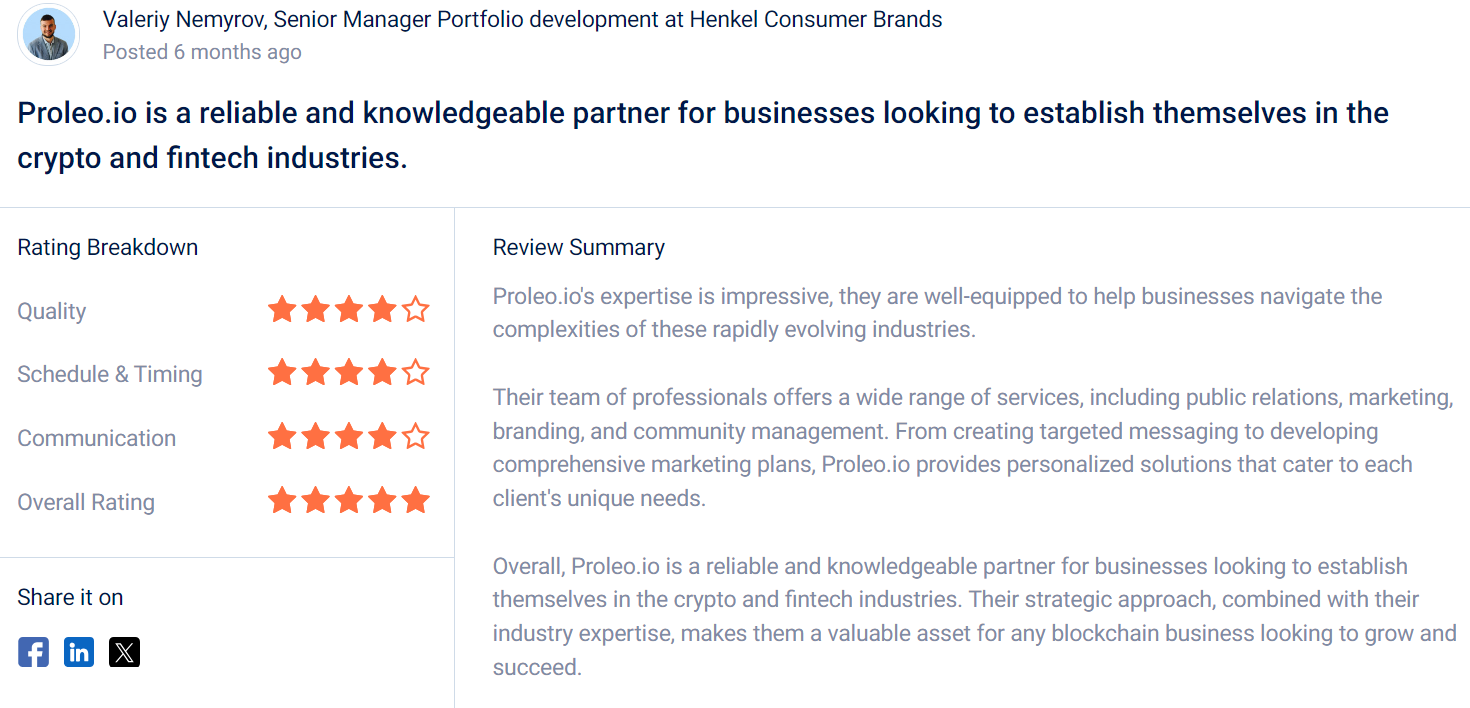 Click for more reviews.
Payment Structure With Maximum And Minimum Budget Requirements
As per Mr. Sbaa, the company offers pay-per-feature and monthly payment options tailored to the client's project needs. It is common for clients to present a budget that aligns with their marketing campaign requirements.
He mentioned that by introducing new products or services, the marketing budget would incur a cost of six figures. Nonetheless, the company also takes on smaller projects that require a budget of up to five figures. When discussing project pricing for 2022, he stated that the minimum and maximum costs would be between $5,000 and $200,000.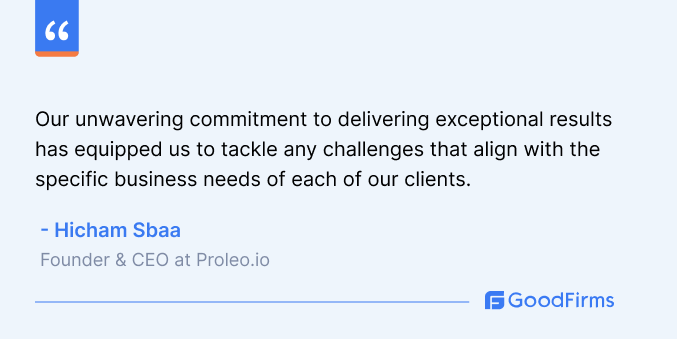 The Plans Of The Company For The Next Decade
Mr. Sbaa emphasizes that the company's utmost priority is to expand its facilities and promote the global adoption of blockchain and cryptocurrency technologies. To achieve this, they will launch highly effective marketing campaigns to propel the industry forward. 
Additionally, the company will remain steadfast in its commitment to providing exceptional public relations and marketing services to the fintech and crypto sectors.
The detailed interview is available on GoodFirms.
About GoodFirms
Washington, D.C. based GoodFirms is an innovative B2B Research and Reviews Company that extensively combes the market to find business services agencies amongst many other technology firms that offer the best services to their customers. GoodFirms' extensive research process ranks the companies, boosts their online reputation, and helps service seekers pick the right technology partner that meets their business needs.
About the Author
As a Content Writer at GoodFirms, Anna Stark bridges the gap between service seekers and providers. Anna's dominant role is to figure out company achievements and critical attributes and put them into words. She strongly believes in the charm of words and leverages new approaches that work, including new concepts that enhance the firm's identity.